Community Investments and Partnerships
Univera Healthcare is watching developments involving novel coronavirus disease 2019 (COVID-19) and what it means for those we serve. The COVID-19 pandemic is disrupting life for everyone as our communities battle this potentially deadly virus. Because of this disruption, we are carefully evaluating all corporate giving requests to assess where these dollars will do the most good as our communities begin to recover. We appreciate your patience and understanding.
NEW! Health Equity Awards
We strive to work with communities to create an environment of equity and access where everyone can reach their full potential. The 2021 Health Equity Awards focus on addressing racial and ethnic health disparities. Univera will award a minimum of $30,000 through a competitive application process to qualified community-based organizations.

Health Equity AwardOpen a PDF
Health Equity Award - SpanishOpen a PDF
We take our responsibility as a corporate citizen seriously, "giving back" to the communities where we work and live. It's part of our mission.
In addition to providing excellent health care insurance coverage for thousands of Western New Yorkers, we help to improve the overall quality of life for people who reside in our communities.
We also sponsor and support a wide range of community-based charities and organizations financially and with gifts in-kind.
The following are examples of programs and projects we have initiated and continue to support.
---
20 Seconds to Clean

20 Seconds to Clean: promotes washing your hands properly by lathering with soap and water for 20 seconds. Getting adults to model this behavior for their kids will create a healthy habit for life and can help stop the spread of germs, the flu, and other illness.
Univera's 20 Seconds to Clean includes an online tool kit with a downloadable handwashing sign illustrating handwashing tips and techniques, and why they work. For kids, there's a certificate with a handwashing pledge for them to sign. There are informational videos, and even links to materials designed for businesses to use for reminders at the worksite.
Toolkit:
---
Bethel Head Start- Healthy Child Program

Healthy Child Fitness Day at Buffalo's Medaille College marked the end of a three-year program to bring physical activity and nutrition into the lives of Bethel Head Start children and their parents. Univera Healthcare funded the program and college faculty wrote the curriculum for Bethel Head Start Program teachers. Univera Healthcare's grant also facilitated the collection of data from mothers, fathers and teachers about students' participation in the activities as well as the parents' challenges in providing healthy meals for their kids.
"Thanks to the underwriting support from Univera Healthcare, our teachers, children and parents are learning about the importance of healthy bodies and healthy minds, and can model those behaviors at home and at school,"
said Bethel Head Start, education director, Linda Wright.
Follow this link to learn more about Bethel Head Start Organisation.
---
Catholic Charities-Diabetes Education for Individuals with Mental Illness and Frail Adults
Left unmanaged, diabetes can cause cardiovascular disease, heart disease, blindness, stroke and even death. For diabetics who also are living with mental illness, barriers to managing the disease can include communication difficulties, access problems, and medication adherence issues. Univera Healthcare has provided Catholic Charities of Buffalo with a $65,000 multi-year grant to fund Diabetes Education for Individuals with Mental Illness and Frail Adults. The initiative is focusing on these members of the diabetic population to make a measurable difference in their ability to live with the disease.
Follow this link to learn more about the Catholic Charities of Buffalo.
---
Double Up Food Bucks

The term "food desert" describes urban or rural areas with little or no access to grocery stores. Residents of these areas have a higher risk of diet-related chronic illness and poor health outcomes. The Field & Fork Network is part of the Western New York farm-to-table movement and is working to change this dynamic. With financial support from Univera Healthcare and others, the Field & Fork Network's Double Up Food Bucks program allows people participating with the federal Supplemental Nutrition Assistance Program (SNAP) to double the dollars they spend on healthy fruits and vegetables at participating farmers markets, doubling their money up to $20 per market visit per day.
Follow this link to learn more about Double Up Food Bucks.
---
Durham Central City Baby Café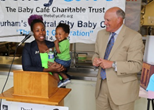 "I feel at home here, and at ease," said Augusta, a mother of three young boys, when describing how she feels when she's at Durham's Central City Baby Café in downtown Buffalo. "It's a place where I can let my shoulders down, knowing that it's not just me, but that there are other moms going through the same things I'm going through."
Durham's Central City Baby Café is a different kind of café. On its "menu" are free programs for expectant mothers and new moms, including on the importance of breastfeeding. The café opened in 2013 as the first Baby Cafe of any type in New York state and used as its basis the internationally recognized Baby Café program where women stop by the cafés to share experiences and meet with Certified Lactation Counselors. Durham Memorial AME Zion Church operates the Durham's Central City Baby Café with support from a Univera Healthcare Community and Member Health Improvement grant.
Baby Café staff assist moms-to-be with creating a birthing plan, doula support is available if requested, and there is ongoing support after the child is born. The Baby Café also hosts presentations by community partners where new mothers learn about topics that are important to young families, such as CPR, emergency preparedness, first aid, and domestic violence issues.
"What I've learned from the mothers and their babies who have passed through our program is that moms do better when they know better," said Reverend Diann Holt, Baby Café director.
"I think one of the major benefits of coming to the Baby Café is being able to talk with other moms about breastfeeding and my experience with breastfeeding," said Augusta. "The people here at the Baby Café even helped me to become a Certified Lactation Counselor."
Univera Healthcare's Community and Member Health Improvement grant program targets underserved segments of the community to enhance quality of life and health status. Programs receiving funds have specific objectives and measurable outcomes.
"Just being able to talk about things that we're going through as moms and as parents has taught me that while we're different on the outside, we're very similar on the inside," said Augusta. "That's helped us feel more at ease as parents, and that's a big deal."
Follow this link to learn more about Baby Cafe USA.
---
Esperanza y Vida Initiative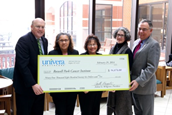 Latina women in the U.S. are less likely than non-Hispanic white women to receive health screenings including mammograms, clinical breast examinations (CBE) and Pap tests. Studies suggest that disparities in cancer and diabetes deaths among Latinas are largely due to the methods for communicating information, screening behaviors and access to treatment.
Roswell Park Cancer Institute's Esperanza y Vida (Hope and Life) initiative, underway since 2007, is addressing this ethnic disparity. And with a $95,000 grant from Univera Healthcare, the program is expanding its education and support efforts within Western New York's Hispanic community, to increase early detection and treatment of breast cancer, diabetes and cervical cancer.
Follow this link to learn more about Roswell Park Cancer Institute.
---
Niagara Falls Memorial Wellness Center
"This is a model for other communities," beamed Art Wingerter, Univera Healthcare president, as he took part in the January 2014 ribbon cutting to open the Niagara Wellness Connection Center on the campus of Niagara Falls Memorial Medical Center. As the region's first integrated, patient-centered care model, the new wellness center enhances the delivery of behavioral health and other services to the people of the Niagara Region.
Univera Healthcare has committed $70,000 over the next three years to fund programs for the center's behavioral health clients, including onsite classes in nutrition, medication management, chronic disease management, and smoking cessation. The programming is important for these clients since research funded by the Robert Wood Johnson Foundation reveals that more than 68 percent of adults diagnosed with a mental disorder also have companion medical issues. That puts them at greater risk for premature death, largely due to complications from untreated, preventable chronic illnesses such as obesity, hypertension, diabetes and cardiovascular disease.
Sanjay Chadha, vice president at Niagara Falls Memorial, calls the wellness center, "a revolutionary new coordinated care program that will integrate behavioral health, primary care, wellness services, and community and social support services under one roof."
Indeed, there's a great deal under that roof, including access to health and wellness education, screening for drug or alcohol addiction, fitness activities, and even financial and health insurance counseling.
The wellness center features a multi-use classroom for health and wellness education, a primary care office and a large activity room that includes a resource library and four service kiosks staffed by representatives of community social service agencies. Services are available to clients before and after their primary care visits and counseling sessions. Clients are connected to health insurance, primary care and financial assistance eligibility services, wellness activities and transportation services. Housing, food, clothing and other social and economic support services are also available.
Univera Healthcare recognizes the one-stop approach to service delivery as an opportunity to efficiently and cost-effectively offer high quality care and improved health outcomes to these at-risk clients.
Follow this link to learn more about Niagara Falls Memorial Wellness Center.
---
School Based Programs
Fun 2B Fit ©

An award-winning program designed to combat childhood obesity, Fun 2B Fit encourages elementary school students and the parents to make healthier lifestyle choices by trying new foods, increasing physical activity, shopping for healthy foods and preparing meals together. Second graders participate in a 12-week taste testing program where they sample foods made using healthy recipes. Third graders participate in the Fun 2B Fit workout, and fourth graders experience the "Eat Well. Live Well" food tour at Wegmans Food Markets. Children learn about healthy foods based on the USDA Food Guide Pyramid and sample a variety of foods. Fun 2B Fit tools include a portion control plate and Wegmans grocery pad.

Since the program's inception in fall of 2005, more than 23,000 students at 100 schools in Western New York have participated in Fun 2B Fit.

Visit fun2bfit.univerahealthcare.com for more information.
Modal for Application Rules and Requirements