Univera Healthcare awarded grants to five community-based organizations which are part of the Bailey Green Initiative on Buffalo's East Side to improve the health and quality of life in an area that has faced considerable challenges for decades. Bailey Green is a neighborhood bordered by Bailey Avenue and Scajaquada, Genesee and Colorado streets.
"We focused our grants on this section of Buffalo because the need is so great, and the collaboration among residents and their community partners is so impressive," said Univera President Art Wingerter.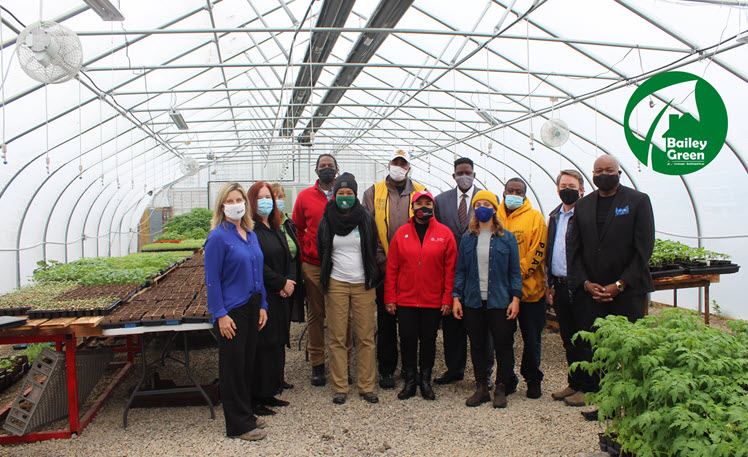 L-R Front: Teresa Bianchi, Dr. Lorna Fitzpatrick, Kimberly Burr, Allison DeHonney, Mayda Pozantides , Grace Tate
L-R Back Row: Darryl Gaines, Murray Holman, Jimmy Darby, Thomas Beauford, John Somers, Joseph Searles
The Bailey Green Initiative is a public/private partnership conceived by Harmac Medical Products and aided by a Master Plan designed by the University at Buffalo's School of Architecture and Planning to support, stabilize and transform the Bailey-Genesee neighborhood where Harmac is headquartered and many of its employees reside. Begun in 2008, it has evolved into a unique collaborative which now includes more than 40 not-for-profit, business and municipal partners.
The Bailey Green neighborhood is a "food desert," defined as an area without grocery stores, farmers markets or other fresh food providers within a mile radius. Food deserts contribute to health issues that are abundant on the East Side, including diabetes, cardiovascular disease, obesity and hypertension. Many of the partners' efforts are focused on changing that.
"We're so pleased that Univera has taken an interest in supporting our partner organizations in Bailey Green," said Harmac President & CEO John Somers. "These grants will help each of them continue the great work they are doing in caring for our neighbors and making Bailey Green a healthier and safer community, in which we can all be proud to work, play and live."
Buffalo Peacemakers will provide 2,000 meals and Personal Protective Equipment (PPE) to impoverished households in the Bailey Green Neighborhood.
Buffalo Urban League will distribute fresh fruits, vegetables, and PPE to Bailey Green residents through its Project AWARE, along with a directory of services available to residents and literature on ways to improve their health.
Buffalo Go Green will enhance yields at its urban farms and then make the produce available at farmers markets held in the Bailey Green neighborhood. In addition to healthy produce, the farmers markets will offer healthy printed recipes and information about nutrition.
Groundwork Market Garden is a certified organic farm committed to providing safe and healthy organic produce to the residents of Buffalo, with a focus on underserved communities. Its Bailey Green Thumb Seeding Giveaway will supply potted vegetable transplants to Bailey Green residents to introduce them to gardening as a fun way to enjoy healthy home-grown fruits and vegetables.
The Bailey Green Master Plan also focuses on removing dangerous and unstable properties and replacing them with green space and new housing. Habitat for Humanity Buffalo will apply its Univera grant toward a new home in the neighborhood.
To learn how you can support the Bailey Green Initiative, contact Harmac Medical Products at 716-897-4500.
Contact:
Kandis Fuller, APR (716) 857-4410
---
Univera Healthcare is a nonprofit health plan that serves members across the eight counties of Western New York. With more than 500 Buffalo-based employees and a local leadership team, the company is committed to attracting and retaining a diverse workforce to foster innovation and better serve its members. It also encourages employees to engage in their communities by providing paid volunteer time off as one of many benefits. Univera is part of a Rochester-based health insurer that serves more than 1.5 million members across upstate New York. Its mission is to help people live healthier and more secure lives through access to high-quality, affordable health care, and its products and services include cost-saving prescription drug discounts, wellness tracking tools and access to telemedicine. To learn more, visit UniveraHealthcare.com.