A health equity award from Univera Healthcare will help ConnectLife create a new Minority Donation and Transplant Stakeholders Council to provide input to ConnectLife leadership and staff regarding cultural competency issues relating to organ, eye, and tissue donation. This effort will address health literacy and health equity concerns specific to minority populations and ethnic groups within ConnectLife's service area.
ConnectLife is a nonprofit organization that serves Western New York as a federally designated organ procurement organization and community blood bank. It is dedicated to saving and enhancing lives through its work - not only in our community, but also beyond, nationally and internationally.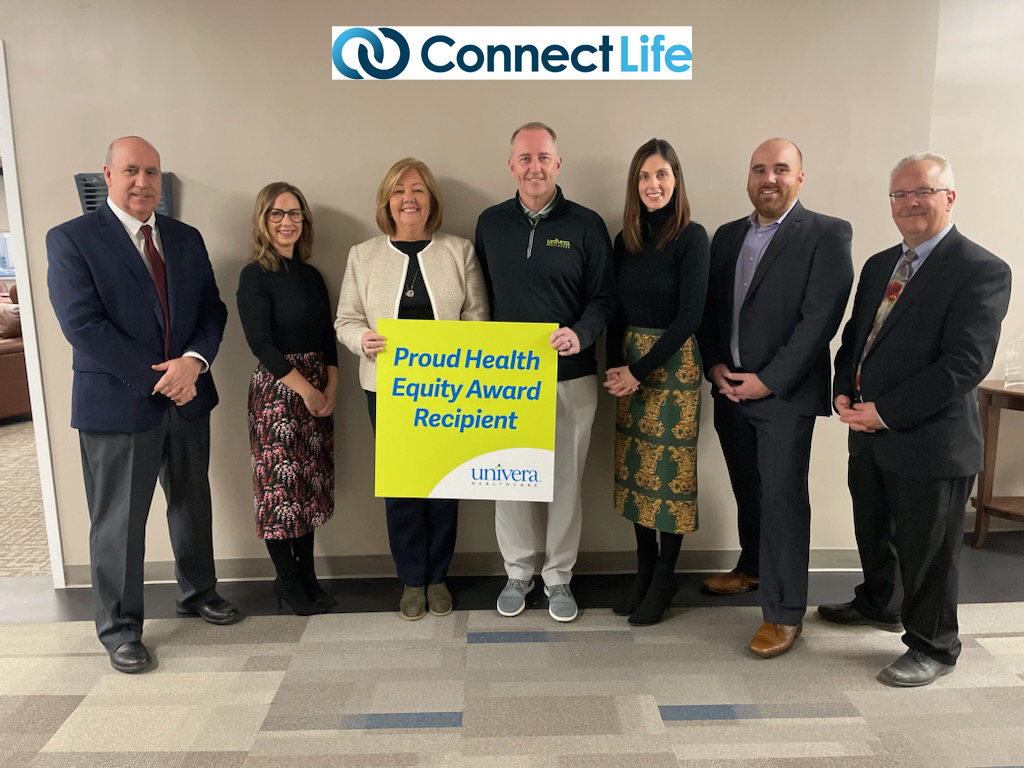 Pictured (l-r) - Kevin Gramlich, CEO ConnectLife; Ann Branch, Univera Healthcare Director Retention Sales; Roxane Huyler, SVP Human Resources ConnectLife; Paul Valley, VP Sales Univera Healthcare; Sarah Diina, Senior Director of Marketing & Community Development ConnectLife; Dominic Manfredo, Account Sales Consultant Univera Healthcare; James Bridges, SVP Quality ConnectLife.
"Univera Healthcare has more than 500 employees who call Western New York home, so finding opportunities to address structural racism and health inequities in the neighborhoods and communities we share with our members is personal to us," says Univera Healthcare President Art Wingerter.
Univera Healthcare invited nonprofit, 501(c)(3) organizations serving Western New York to apply for Health Equity Awards to help fund health and wellness programs that address racial and ethnic health disparities. Organizations were required to specify how funding would measurably assist in improving racial and ethnic health equity outcomes. Health Equity categories included but were not limited to: Reducing health disparities in racial, ethnic, LGBTQ communities, people with disabilities, people living in rural or urban communities, or other groups that may be at higher health risk for medical issues and conditions (chronic or acute), behavioral health or mental health conditions, and negative outcomes from the above, including death or suicide.
"Working together with organizations like ConnectLife, we are confronting the crisis in health disparities, embracing and addressing long-standing gaps in care, and bridging health equity gaps in our underserved communities," says Wingerter.
Univera Healthcare is a nonprofit health plan that serves members across the eight counties of Western New York. It is part of a Rochester-based health plan that serves 1.5 million members across upstate New York.
Contact:
Peter Kates (716) 983-8765
---
Univera Healthcare is a nonprofit health plan that serves members across the eight counties of Western New York. With more than 500 Buffalo-based employees and a local leadership team, the company is committed to attracting and retaining a diverse workforce to foster innovation and better serve its members. It also encourages employees to engage in their communities by providing paid volunteer time off as one of many benefits. Univera is part of a Rochester-based health insurer that serves more than 1.5 million members across upstate New York. Its mission is to help people live healthier and more secure lives through access to high-quality, affordable health care, and its products and services include cost-saving prescription drug discounts, wellness tracking tools and access to telemedicine. To learn more, visit UniveraHealthcare.com.